As the marketplace's importance in the Middle East grows, we wanted to highlight the importance of optimising Amazon product content in the UAE. Not only does great product content help to determine your placement in Amazon search results – so customers can find your products – but will also impact whether they go on to purchase them.
We would advise brands in all markets that product content should be consistently executed across their Amazon product listings. It is a particular issue in the Middle East; our recent Benchmarking Report of 50 consumer brands being sold on Amazon.ae revealed significant inconsistencies in the quality of product content even for their top ranking products.
In this blog, we cover the results of the brands we analysed, as well as provide some insights into how you can easily optimise your listings to ensure you are securing the top spots in search results and ultimately, converting customers.
Amazon product content in the UAE analysed
Across the five categories we reviewed; Beauty, Home & Kitchen, Electronics, Vitamins & Supplement, and Fashion & Apparel, we observed that in comparison to Amazon in Germany, there was a very low percentage of listings that adhered to best-practise standards. Only 22% provided value-adding product descriptions, and a further 24% added an optimal number of bullet points to their listings. That said, this was one area where brands on Amazon.ae exceeded Amazon.de.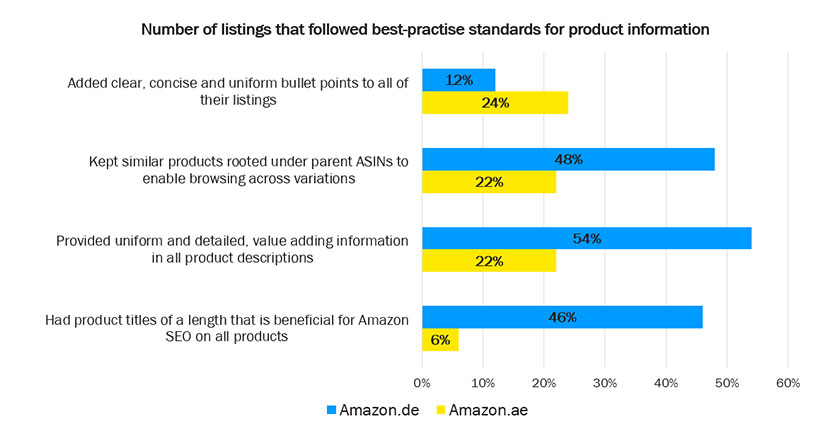 Amazon is still a young concept in the Middle East, and the results highlight that there is significant improvement to be made for brands selling within the market. By investing time in making relatively minor changes to optimise product information, brands will begin to see an uplift in traffic and sales conversion as a result of higher rankings in search terms and customers receiving the information they need to make informed purchases.
Quantity is just as important as quality
Similarly, the results for product imagery were relatively low. We noticed a lot of inconsistency in the visual aspects of Amazon product content in the UAE. Though there was a good use of high quality imagery across the listings we reviewed, there was a lack of close up images, lifestyle images, and simple text and badging on secondary images.
This is a missed opportunity for brands as providing such elements will allow customers to visualise specific features of a product. Customers today like to shop with ease; the bigger the selection of these types of imagery you have the more engaged and informed they will feel.
The same applies to video content. Although this is a relatively new feature on Amazon.ae – and can be quite costly to produce –  brands will benefit from including short product demonstration videos on their listings to highlight a product's unique selling points. Categories where this is particularly useful include Electronics and Home & Kitchen, where products are more technical and of higher complexity.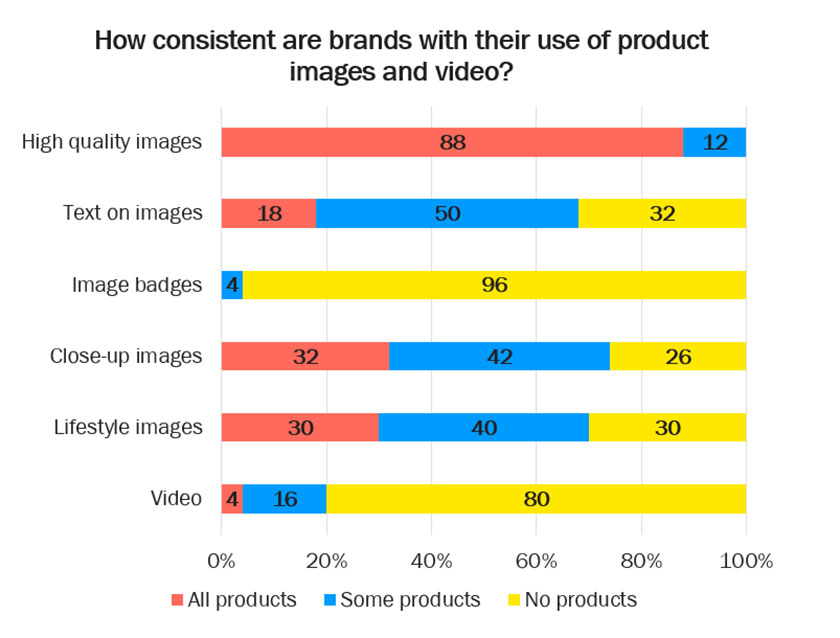 Our research also highlighted that a minimal number of brands were utilising the Branded Content features that Amazon offers. Only 4% had a branded storefront on all product listings, whilst a further 30% included A+ content. These features are available to brands if they are signed up to Brand Registry, and as an authorised seller, Pattern can act on behalf of your brand to integrate these features into your product listings.
How this will this benefit your brand? It will allow shoppers to have a brand-centric experience aligned with your other online channels. This can aid higher conversion rates as customers will be able to discover a full selection of inventory. As an example, where this is particularly beneficial is with categories such as Beauty, and Fashion & Apparel as brand positioning is an important factor when marketing to consumers.
Optimising Amazon product content in the UAE is extremely important, especially for brands looking to enter the market as this crucial element will impact where your product listings sit in the organic search terms and whether customers are enticed enough to click on your listings.
Download the report now to see the full results on how all 50 brands performed, supported by best practise examples of listings that will help you succeed on Amazon.ae.