With the current economic outlook, 2023 is shaping up to be a challenging year for e-commerce businesses & marketplaces may hold the key to sustained growth. Marketplaces have firmly rooted themselves as crucial platforms for businesses to drive sales & increase brand exposure but most importantly enable adopters to diversify their revenue streams. 
Growth aside, marketplaces, like Amazon, boast a completely new customer base that could fill any shortfall in your D2C revenue. In this article, we'll explore three key reasons why you should consider marketplaces: exposure, efficiency & brand identity. Whether you're a small business just starting out or an established brand looking to increase your online presence, they are a cost-effective, efficient & essential tool to achieve your goals.
1. Increased Exposure = More Sales Opportunity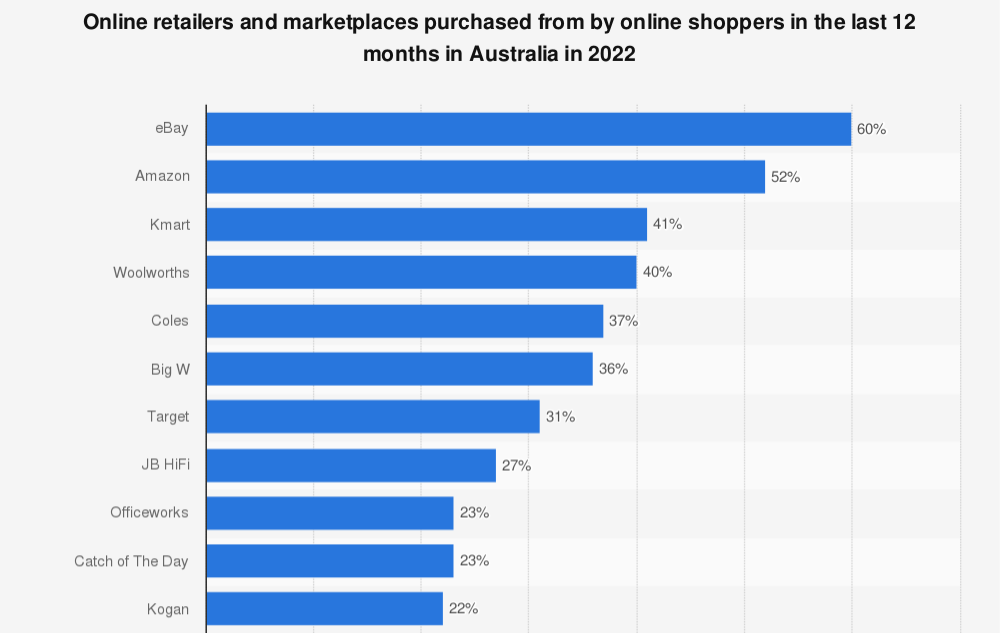 Source: Statista
Marketplaces such as Amazon, eBay, Catch & Kogan offer a great launchpad to attract additional eyes & customers. In 2022, Amazon & Ebay ANZ had a combined total of 91m monthly visits, with 60% of total online shoppers stating they had purchased from Ebay in the last 12 months. By listing products on established marketplaces, you can capture a much wider audience and new customers. Marketplaces user base and high traffic provide a fantastic opportunity for customers to discover your brand & product. 
Australia Post's ecom report found that 2.5m of 'Active Shoppers' are more likely to purchase from marketplaces in the hunt for a deal – 26.7% of Australia's total online shoppers. Additionally, marketplaces offer a range of exposure features such as sponsored products, advertisements, daily and lightning deals that further increase eyes on your brand. Amazon offers product listings optimising, such as keywords and product descriptions data which allows you to increase your organic visibility in search results. 
Regardless of product category, the added eyeballs marketplaces can offer will undoubtedly yield more sales – the extent of which depends on a number of factors; product fit, brand recognition, consumer demand, pricing, advertising, resellers imagery, content & more
2. Data Insights, Lean Growth & Efficiency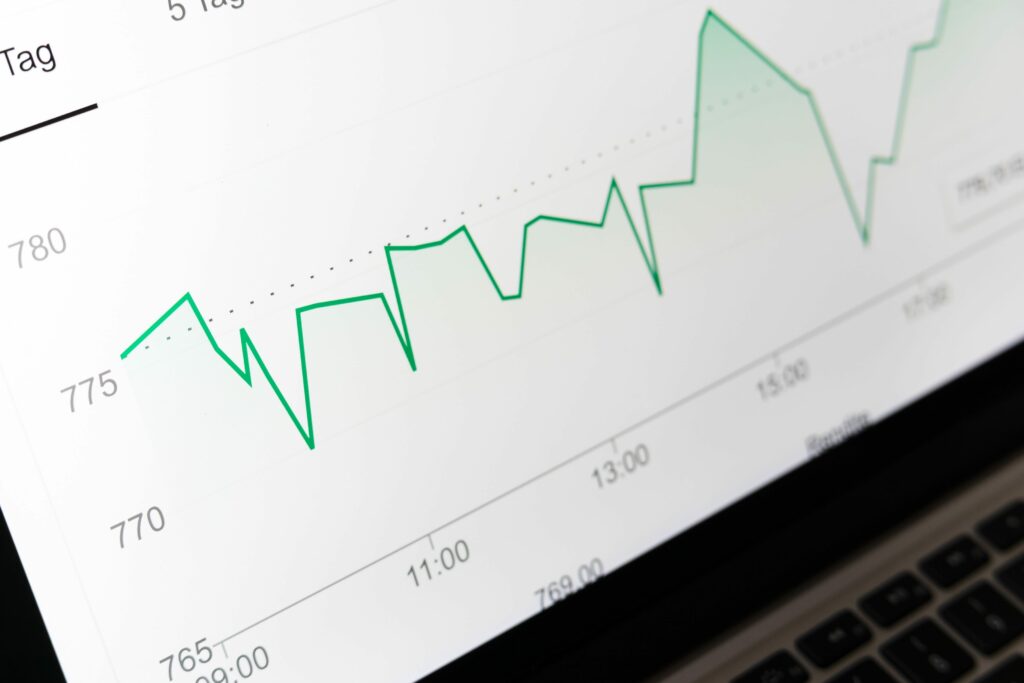 Furthermore, marketplaces offer meaningful efficiency enhancement in several ways including 3PL fulfilment, reduced overheads, personnel efficiencies, lean stock & inventory, and increased volume. They also provide useful data insights not found on D2C that will drive your strategic decision-making.
Here are some key ways marketplaces can drive efficiencies in your business:
1. 3PL Fulfilment 
Reduced warehousing & storage costs.
Much shorter delivery times & possibilities for same-day delivery to customers.
Access to Amazon Prime customers.
Returns process management.
2. Staff Efficiencies 
No need for customer service staff.
3PL handles all returns & refund processes.
Advertising can be easily managed in a user-friendly interface. 
3. Lean Stock & Inventory
Marketplaces offer an alternative avenue to sell through & lean-up inventory.
Free cash tied up in stock.
No capex is required to continue growth.
4. Increased Volume 
If you opt to fulfill orders from your current warehouse, you will see increased volume through capacity utilisation & volume rates from your packaging, carrier or warehouse partners.
You have probably seen solid YoY growth in recent years with healthy margins & naturally have planned for similar growth this year but that may not be the best strategy. Depending on the scale of your business, marketplaces cash flow could prove vital over the coming months. There are commissions/fees associated with marketplaces that naturally consume the bottom line, however, selling at a reduced margin is still better than no sales. Opting for a leaner growth strategy will enable continuous cash flow while still allowing YoY growth – although at a lesser rate.
Furthermore, marketplaces often provide valuable data and insights about customer behaviour and purchasing patterns, which can be used to optimise your marketing and sales strategies. By utilising these insights, you can make informed decisions about product pricing, promotions & NPD increasing efficiency and reducing waste.
3. Regain Your Brand Identity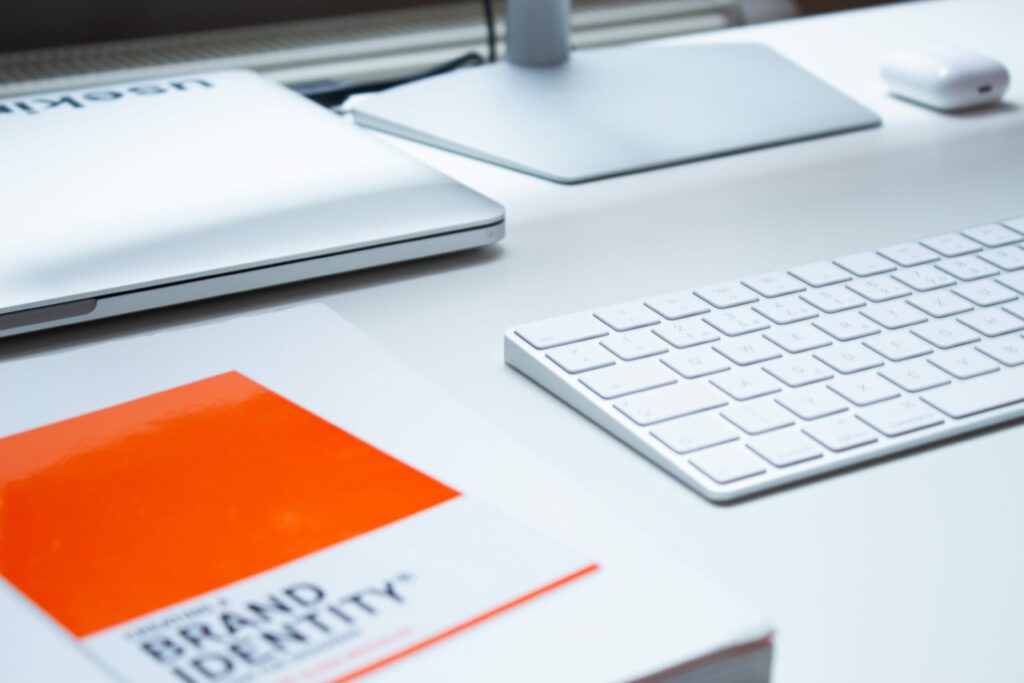 It is highly likely that a reseller is already selling your products on marketplaces but may not be representing your brand correctly. Consider your imagery, content, tone of voice & end-to-end purchasing experience. A bad purchasing experience with a reseller on marketplaces may irreparably damage your brand & future D2C sales. 68% of purchasers on Amazon buy products from unknown brands so if marketplaces are their first experience with your brand – you need to be confident it's a positive one.
Many marketplaces have strict policies and guidelines in place to ensure that products sold on their platform meet certain standards, helping to protect your brand from counterfeit products and negative customer experiences. Additionally, they offer tools for managing customer feedback and resolving customer complaints, which can help mitigate the impact of negative experiences and maintain a positive brand image.
Tools and mechanics are great but will never offer the same experience that you – the brand – can provide. The best way to control your brand image on marketplaces is to own it – you own the content, imagery, price, and promotions. Additionally, on Amazon, you can create A+ content and a branded storefront which helps showcase the brand to your specifications. 
Are you happy to settle for a substandard customer experience or brand image on marketplaces? If so, how much recurring revenue are you willing to let go? If not, regain control of your brand & join marketplaces. 
With the increasing presence of marketplaces, like Amazon and eBay, contact our team at Pattern to find out more about how we can support your business growth on marketplaces.