Tracking spend and marketing effectiveness has always been a key strength of digital activity. But 2020 led to a lot of changes. First, there was the IOS 14 update at the start of the year, that enabled users to opt out of app tracking, rendering cookies and data tracking almost redundant. Then the pandemic started and changed ecommerce forever. While it accelerating users' adoption of online shopping, the last 12 months have been a painful readjustment in consumer behaviour for many brands. Now, online retail has never been more competitive, with the cost of living rising and brands offering a multitude of discounts, desperate to win back lost revenue.
As we enter into one of the busiest times of the year, knowing how to effectively measure your marketing investment is crucial to understanding your brand's performance. While there's been a lot of buzz in the digital ecommerce and agency landscape around ROAS being "dead," at Pattern Australia, a Google Premier Partner and Ecommerce Accelerator, we know it's not.
How Has ROAS Changed?
ROAS, or Return on Advertising Spend, is a metric used to measure the effectiveness of advertising campaigns by calculating the revenue generated for every dollar spent on advertising. It indicates the profitability of marketing efforts and helps businesses evaluate the success of their advertising strategies.
In 2020, Apple's release of the IOS 14 update saw many platforms, including Facebook, lose the ability to properly showcase how they were driving sales. From the outset, this meant ROAS was going to become a less reliable metric with digital marketing channels potentially losing budgets, by being seen as less effective.
However, from our own experience, ROAS has not died out as many would believe but has actually surpassed previous year's results. The chart below indicates that on average for our tracked brands, Paid Search ROAS has seen an increase of 45% YoY between September 2022 and September 2023.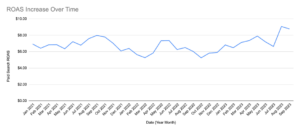 What this tells us is that the revenue generated from ad spend has improved, regardless of external environmental factors. However, what's not clear, is how channels that are better suited to drive awareness of a brand, for example, social, CRM or traditional marketing efforts have increased the visibility and success of Paid activity.
Understanding the change in consumer trends and buying behaviour, like the relationship between in-store and online shopping, intricate channel splits and the changes to user searching patterns cannot be captured by ROAS alone.
What is MER?
MER, or Marketing Efficiency Ratio, is a metric that measures the proportion of a company's total marketing expenses to its revenue. It provides insights into how much a company is spending on marketing relative to its overall revenue.
MER typically includes various marketing activity such as advertising costs, promotional expenses, marketing staff salaries, and other related costs. By tracking MER, businesses can assess the efficiency of their marketing investments and make informed decisions about resource allocation.
The way to calculate MER is:
MER = Total Revenue/Total Ad Spend
The Benefit of Tracking MER
One of the benefits of tracking MER is its ability to holistically look at total revenue for all marketing efforts, rather than a more granular view that can be less forgiving when certain campaigns don't perform compared to others solely based on revenue.
For example, a Paid YouTube campaign can help increase brand awareness for a particular sale period or just be used as a top-of-funnel activity. However, if a person searches up the brand after seeing the ad and decides two weeks later to purchase from the site, the revenue would likely be attributed to Paid or Organic channels. In this instance, MER would be the appropriate metric for understanding the value of more brand awareness activity over ROAS, which would see the YouTube campaign as an underperforming ad.
ROAS vs MER: What's Better?
Eoin Duffy, Performance Account Director at Pattern identifies that, "With user journeys more complex than ever, it's important to approach sales reporting from an omnichannel perspective. Google data tells us that only 7% of customers now use a single channel to shop, the lowest percentage on record. With 57% of Australians using five or more channels before final purchase, no single-channel view should be relied on for source-of-truth revenue reporting."
Between ROAS and MER, the only difference is the shift towards single revenue attribution and overall profitability. From a brand perspective, focusing entirely on ROAS would result in a very skewed understanding of your marketing performance, accrediting the success to the channels with the most revenue.
On the other hand, focusing solely on MER as your overall definer of success only gives brands the bigger picture, with no real testament to the effectiveness of the outcomes or industry benchmark to measure your results. Rather, MER's guide to measuring success is more a 'throw it at the wall and see what sticks' kind of approach.
Tania Knight, Principal Consultant at Pattern, explains that, "The way we make decisions and go about our shopping is a bit like our unique fingerprints – no two are exactly the same."
"This individuality makes it quite tricky to pinpoint a specific ad or campaign responsible for every sale. While ROAS helps us spot opportunities to fine-tune our ads and campaigns for better results, MER lets us see how all the marketing pieces fit together. It gives us the bigger picture of how well our entire marketing mix is performing."
"Together, they show us not only how changes impact individual campaigns but also the overall effectiveness of our entire marketing budget."
So, What's the Solution?
As the ever-changing digital ecommerce landscape can attest, there shouldn't be just one way brands measure the success of marketing activity. Both metrics should be tracked when attributing revenue as it's not a choice between one or the other but both have a role in understanding marketing success.
Colin Boucher, Senior Performance Department Director at Pattern, describes the solution as, "Focusing away from [just] ROAS and more around the profitability of marketing activity. This can incorporate strategies based on profit, bidding on Google Ads and exploring Media Mix Modelling. This is all designed to ensure all spend maximises not only revenue but also profit."
ROAS is just as important as ever in the lead-up to 2024, however, using it as part of your overall marketing strategy rather than the sole, result-driven metric it has been used for, is the solution for maximising growth and accurately evaluating your campaign success in the new year.
Why Does Tracking Campaigns Purposefully During Peak Matter?
During peak, businesses often offer deeper discounts to attract customers and increase sales.
In 2022, our brand tracking indicates that retailers offered discounts anywhere from 20% up to 80% off RRP, especially around Boxing Day, with the overall brand discount average being 50% off RRP.
We're predicting this to climb even higher this year, leading to increased Cost Per Click (CPC) rates as competition for ad placements intensifies. As a result, ROAS will be affected, as businesses will need to spend more on advertising to maintain or increase their revenue and compete with brands offering the same and potentially deeper discounts as last year.
We know that online sales make up around 15 – 20% of overall revenue, and this is only set to increase during the peak holiday and Black Friday rush.
When speaking to Bethany Carr, Pattern Australia's Senior Social Account Manager, she highlighted that, "Tracking campaigns purposefully during peak seasons is pivotal for [paid social] success. In 2023, as competitors offer deeper discounts, it's crucial to measure beyond ROAS. Evaluating the broader impact on brand, customer lifetime value, and overall efficiency through metrics like MER is key to staying ahead in a competitive landscape."
Understanding overall performance from a data-driven, holistic perspective is our solution to the 'ROAS is Dead' rhetoric, and will be the only way to accurately evaluate the success of your marketing activity in 2024.
To accelerate your performance this Peak season and get your marketing plan ready for 2024, contact us to find out how we can support the growth of your business now.