Running an Amazon business is a tough job–from managing inventory to customer service, it often feels like there are a million things you must handle simultaneously.
So when Amazon throws curveballs like marking your product as a Dangerous Good or Amazon Hazmat (even when they're not), the process can become even more frustrating. And as an entrepreneur, there are probably other things you'd rather focus on instead.
Unfortunately, the Amazon Hazmat review process can quickly feel like a nightmare if you're not ready. Without proper preparation, your product could get stuck for weeks and require what feels like endless paperwork to get your product listing back on the platform. But let's go back to the basics.
What are hazmat products on Amazon?
According to Amazon on Seller Central, Hazmat products are substances that pose a risk to health, safety, property, or the environment at any point through the distribution process.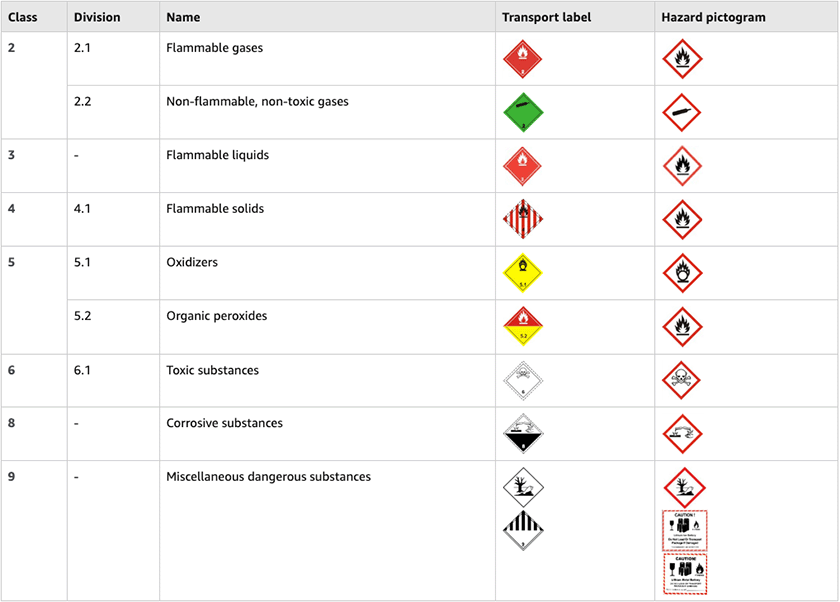 Screenshot from Amazon Seller Central Help Center
Hazmat products will only concern Amazon sellers selling their items via FBA (Fulfillment by Amazon), since Amazon will be in charge of storing and transporting those products. Because of this, Amazon wants to ensure that each product you're selling–and they are handling–is safe for delivery to and from their warehouses.
Working knowledge of the Amazon Hazmat review process is essential for stores that sell products in categories that experience frequent reviews. Examples include health and dietary supplements, essential oils, electronics, liquids, gases, batteries, etc. Different types of hazmat products may include:
Hairspray
Nail polish
Glue
Repellents
Pet care items
Shaving cream
Perfume
No FBA business is exempt from Amazon's hazmat review, and the platform runs strict inspection. As a result, all FBA sellers have to submit an ingredients list from the manufacturer that Amazon then reviews. If any of the ingredients sets off any of Amazon's red flags then the seller will need to submit additional documentation on the product to clear the review.
However, these red flags don't always mean that your product is dangerous. Sometimes, something as minor as having sodium as an ingredient can get you a hazmat review. This can be a big headache for FBA sellers where Amazon frequently flags products that don't actually represent any harm.
**What is the origin of Amazon's Hazmat Review? **
Running Hazmat reviews on FBA products hasn't always been part of Amazon's operations. The platform first introduced the procedure back in 2014 after having to pay a fine of $350,000 due to harming UPS employees with leaking packages.
Since then, Amazon has the right to inspect any item it receives to its warehouses and determine whether it contains dangerous ingredients. It's a way of protecting themselves and their employees and ensuring nothing goes wrong during transportation.
How does hazmat impact your sales?
Amazon classifying your product as a Dangerous Good can have highly negative consequences on your listing conversion rate. Often, it means you'll have to stop selling your product for a while until you fix the issue. It's also going to distract you from other tasks (such as marketing or improving your products) that you could be doing to take your business to the next level.
What happens when products are marked as hazmat?
Here's what happens when Amazon flags one of your products as Hazmat in four different stages:
Step 1: Paused listings
Amazon may pause your product listings, and the FBA team will not make your product listing available until they complete a hazmat review of your product data. Amazon may also give you a notice with a short time frame (usually a couple days) to supply the hazmat review information before they take any action, such as pausing the listing.
Step 2: Fill out a SDS Request
You'll have to supply Amazon with an SDS request from the manufacturer or an MSDS Exemption (Material Safety Data Sheet), which is an exemption form to fill out for non-dangerous products. The requirements include:
You must have updated the form within the past five years
Your SDS form must match your product listing (for example, ASIN title should be the same as your SDS product name)
You must include all the supplier information that corresponds to your product label's supplier information
You must include all 16 standard SDS sections
Step 3: Submit the SDS Request within the deadline
If the documentation is not submitted within four business days, Amazon will block the listing. This is the point of no return, and if not submitted in time you'll have to re-upload your product listing to go through the process all over again.
Step 4: Hazmat classification
Amazon reviews the product documentation (Amazon says to allow up to 4 business days for this review) and designates the product as one of three classifications:
Non-DG: Amazon has not found your product to be dangerous, so there are no hazmat restrictions. Business as usual.
Restricted DG: For Amazon to deliver your product, you need to enroll in the FBA Dangerous Goods program. Existing inventory may need to be transferred to a fulfillment center capable of handling dangerous goods (FBA initiates this transfer themselves). Additional units may be sent to fulfillment centers, but these products count toward your seller's dangerous goods inventory limit.
Unfulfillable DG: Amazon found your product to be too dangerous for delivery and will not fulfill it. As a seller you must create a removal order for the inventory and sell it through FBM. If not removed, Amazon will dispose of the inventory after 5 business days. The platform also gives you the option to request another Hazmat Review.
One important thing to note is that any product that goes through a Hazmat Review will also undergo additional dangerous goods reviews. Here's what Pattern's Senior Brand Manager Jordan Mower has to say about it:
"After a product is classified, this designation is not permanent. The FBA team will initiate a new review if they receive any conflicting ingredient information from any other seller—and possibly for additional reasons that we do not have visibility into," says Mower. "We sell several products that are constantly going through additional Dangerous Goods reviews. A product will be reviewed and classified and then a few weeks later that classification will get changed again and we'll have to pivot on that. So you have to be pretty dynamic with certain products."
How can you resolve Amazon Hazmat Reviews quickly?
Thankfully, Amazon marking your products as hazmat doesn't have to be the end of the world. Here's what you can do ahead of time to better manage Hazmat reviews when they arise:
1. Create an alternative SKU with Fulfillment by Merchant (FBM)
If a product is marked as Hazmat, you can create an alternate SKU with Fulfillment by Merchant (FBM) to keep selling your product. You'll gain complete control over your inventory management and shipping instead of letting Amazon fulfill your orders themselves.
An advantage of fulfilling your orders themselves is that you won't be paying any service fees to Amazon. However, you'll also have to deal with more responsibilities than you would have with Amazon FBA.
2. Request more storage through Seller Central Support
FBA sellers have a limit for Hazmat storage. It this may affect your Hazmat fulfillment options if many or all of your products are Hazmat.
What they don't know, however, is that it's possible to ask for more through Amazon's Seller Central Support. Keep in mind that often only larger sellers will get their request accepted.
3. Hire an Inventory Management Expert
Solving Amazon Hazmat Reviews all comes down to using the proper documentation. However, Pattern Senior Brand Manager Jordan Mower works with a few supplements brands and has often experienced this frustration.
In the end, it's important to have a savvy inventory management person in place who can keep up with the dynamic changes that come with FBA and Hazmat reviews.
Hiring a team of experts to to handle the twists and turns of hazmat products–keeping up with dynamic changes from Hazmat reviews, managing your brand's inventory responsibilities, and compliance–can save you a lot of time and even more headaches.
Plus, you'll gain peace of mind that your inventory and hazmat issues are in good hands, so you can focus on other areas of improving your Amazon store.
**How can Pattern help Amazon businesses clear hazmat?
As an ecommerce marketplace management company, we have vast experience submitting SDS and MSDS Exemption sheets through the Amazon upload portal. We also make sure to apply correct formatting and follow-up with Amazon to make sure the platform accepts your product listing.
Our clients benefit from Pattern's positive track record of fulfillment and sales experience with the Amazon hazmat dangerous goods program. We also offer an extensive inventory storage threshold.
Contact us today to see how a Brand Manager's expertise could help your Amazon listings take off. Our team of experts will be more than happy to answer any questions you may have about ensuring your products are compliant with Amazon's strict hazmat policy.