Utilizing Amazon sponsored ads can be a smart way for a brand to drive greater traffic to a product listing and start increasing sales. While many brands still struggle to manage their advertising strategies, 30% of Amazon brand sellers increased their advertising budgets in 2022. As ecommerce VPs approve their 2023 advertising budgets, it may be worth it to take a look at Amazon's advertising products and the benefit they may have on increasing conversions.
​​Pattern is the premier ecommerce accelerator with all of the expertise, data-driven insights, and technology brands need to gain control on Amazon and maintain their competitive niche. We know the high value of and how to utilize Amazon's advertising products to drive the most traffic and conversions to benefit and accelerate your brand.
Here are Amazon's three main advertising products you should know about in order to drive listing traffic to your products and increase conversions:
Sponsored Brands
Sponsored Displays
For a brand executive who is selling their product on Amazon, you may not already know the differences between campaign type, so we will walk you through the differences and uses for each of these three ad campaigns.
Sponsored Product Ads
Sponsored Products are a mid-funnel advertising strategy that gives visibility to products above the top organic listings (see example below). This strategy uses custom keywords to get products in front of the consumers who are searching for them, however it can be used to capture new audiences as well.These cost-per-click (CPC) ads require no additional copy or images, but usually receive the most interaction of the campaigns and need to be monitored closely.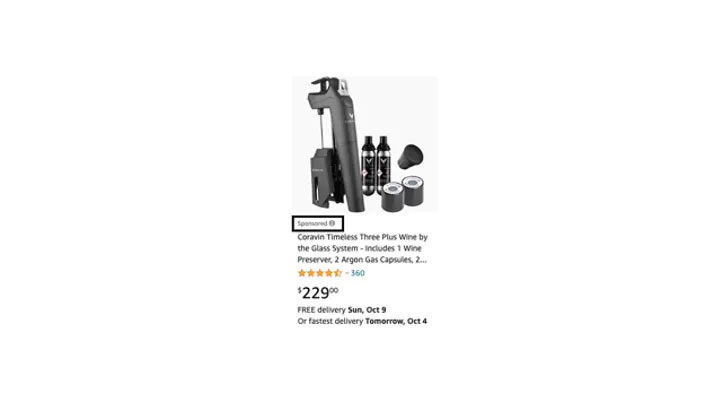 As you can see, these ads look just like an organic listing, however they say, "Sponsored," on them. These types of ads can be especially effective forms of advertising because they tend to blend in with the organic results around them. With Sponsored Products, you can get your products in front of qualified customers who are searching for your product in such a way that doesn't make them feel like they are being served an advertisement.
Sponsored Brand Ads
Sponsored Brand Ads are a top-of-funnel brand awareness tool and function on keywords. This ad format helps show a customer what they may be in need of and where to get it.  Commonly used to promote product lines or best sellers, a Sponsored Brand ad shows up as a banner above the search results (see example below). This type of ad requires that the brand showcase at least three separate products.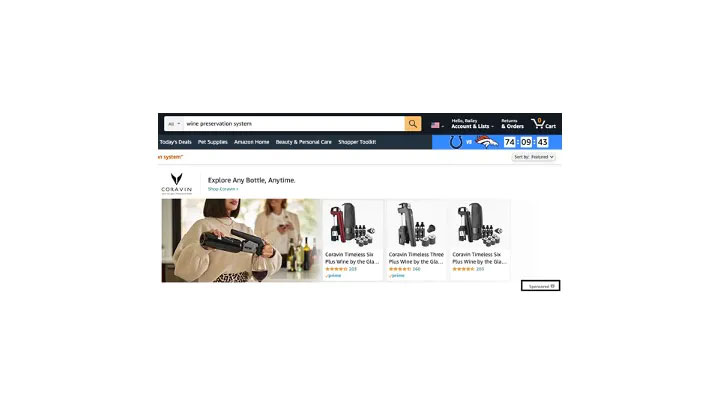 Unlike other campaigns used on the Amazon platform, Sponsored Brand ads require ad copy and a unique logo. These ads also can take customers to a custom landing page, or a page on the brand store, that way they get a clear and overall picture about who your brand is, what other products you sell, and why they can trust your brand.
Sponsored Display Ads
Sponsored Display ads can be a tactic for top, middle, or bottom of the advertising funnel due to its varying targeting abilities. Although most commonly found under the bullet points of a detail page, these ads can also show in emails, newsletters, and even more locations off platform.
Unlike the previous ad campaigns discussed, sponsored display ads can target shopping behaviors, like repeat purchasers, similar product purchasers, and even people who viewed the detail page but did not buy. Sponsored Display ads help customers discover your brand, drive awareness, and create loyalty.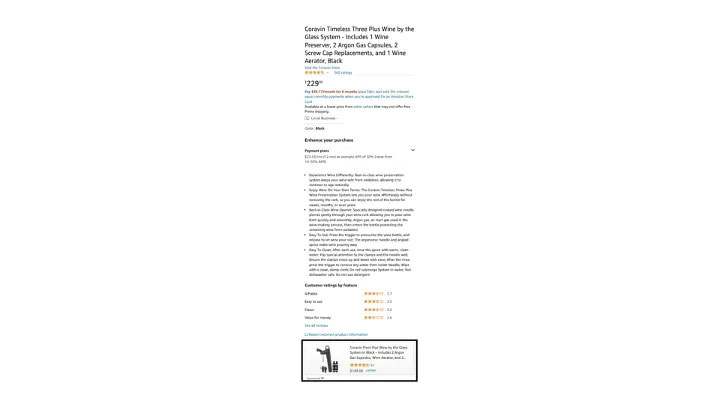 The example above shows just one of the many placements Sponsored Display has.
Accelerate Your Sponsored Products With Pattern
Rather than competing with each other, each of the three sponsored ad products focus on a different section of the sales funnel, allowing you to target your customers and hit your sales numbers, all while edging out possible competitors. When brands use these advertising campaigns, they can better optimize their ad budget to improve ROAS and build revenue.
At Pattern, we have all the resources to help your brand build successful advertising and digital marketing campaigns on Amazon so you can increase traffic and conversions, which will in turn increase your revenue.