With over 200 ranking factors Google uses to assess and position a webpage in search engine results, keywords are still a crucial aspect to any SEO strategy. Relevant keywords need to be placed across many elements of the page, from the title tag and H1 to on-page copy to help search engines understand the intent of the page.
However, if a brand is looking to accelerate its SEO success, you need to look beyond the monthly average search volume SEO tools provide. Diving deeper to understand that keyword search volumes actually change on a monthly basis—they rise and fall based on many factors—is key to elevating your strategy, increasing revenue and targeting users when they are actually searching online.
How to Use Keyword Trend Data?
Having seasonal keyword trends data can be incredibly powerful for your brand. Being able to understand what your users are searching for and when can influence many aspects of your business, from when to launch products, to selecting the most seasonally relevant terms to include in your on-page copy.
1. Better Plan Product Launches & Drops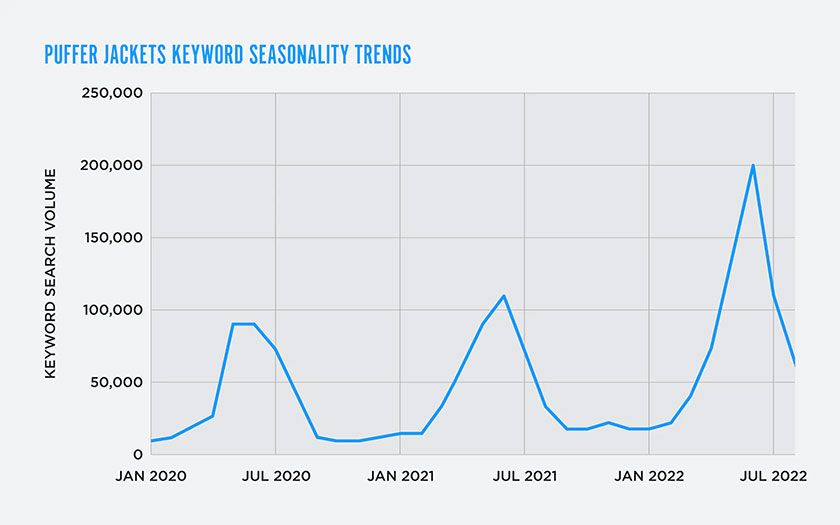 After creating numerous iterations of keyword projects for a wide range of clients, the most consistent feedback we are given on how keyword documents are used is for helping plan product launches aligned with when users are searching for them.
A real-life example of this is a client choosing to bring forward the launch of their puffer jacket product collection to meet consumer search interest, rather than following previous fashion cycle patterns.
Looking at the keyword seasonality trends, puffer jacket keywords begin to increase in volume in February each year, hitting their peak in June. This is not a once-off trend and has been repeated in past years. Previously, the brand was launching their puffer jacket range in May, which from a weather perspective is ideal, with the temperature cooling down ahead of winter—perfect for wearing puffer jackets.
However, after analysing SEO trends, having puffer jackets available from February onwards, when users are starting to search for these products, would potentially lead to an increase in revenue and traffic to the site. This tactic of aligning keyword trends with user behaviour and product launches can also be applied to almost every industry and product category, from FMCG items to clothing collections.
2. Optimisation of Landing Pages & Product Pages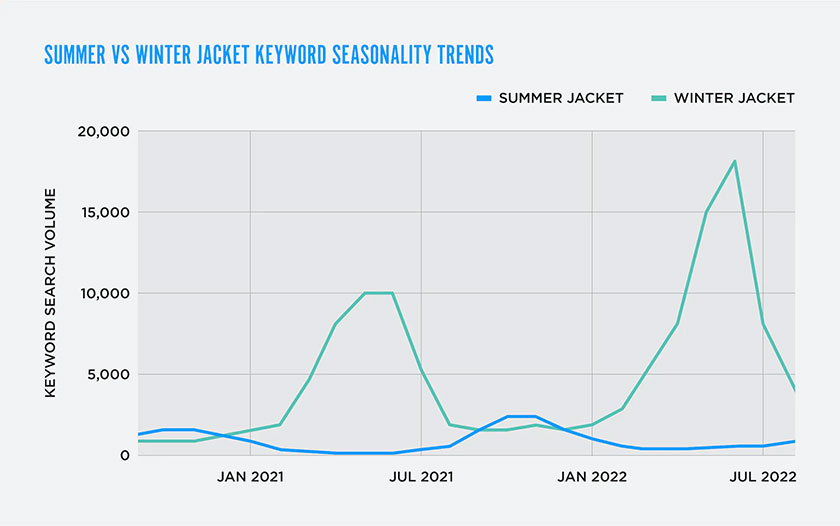 Keyword seasonality data can also be used to plan optimisations of landing and product pages. This is, in particular, extremely effective for seasonal products, or evergreen landing pages that are used across multiple campaigns throughout the year.
Looking at the fashion ecommerce industry, seasonal products such as coats and jackets to shorts and tank tops, can all benefit from an injection of seasonally relevant keywords. For coats and jackets, focusing on keywords to do with layering and transeasonal dressing should be implemented in autumn, which can then be switched out with keywords concentrating on warmth and comfort in winter. This strategy can be implemented on a range of pages, including individual product pages and product category pages.
Likewise, evergreen and core products or categories that see multiple seasonal campaigns should also be optimised using seasonal keyword data. Gift cards and gifting pages are a common example of this, where gift cards and other gifting product sales spike before the event and quickly die down afterwards. By optimising these pages ahead of the gifting holiday (e.g. Mother's Day, Father's Day, Christmas, etc.), you'll be increasing the likelihood of these pages ranking—and therefore increasing revenue—for those specific event terms (e.g. father's day gift ideas).
3. Understanding Store Visitation Seasonality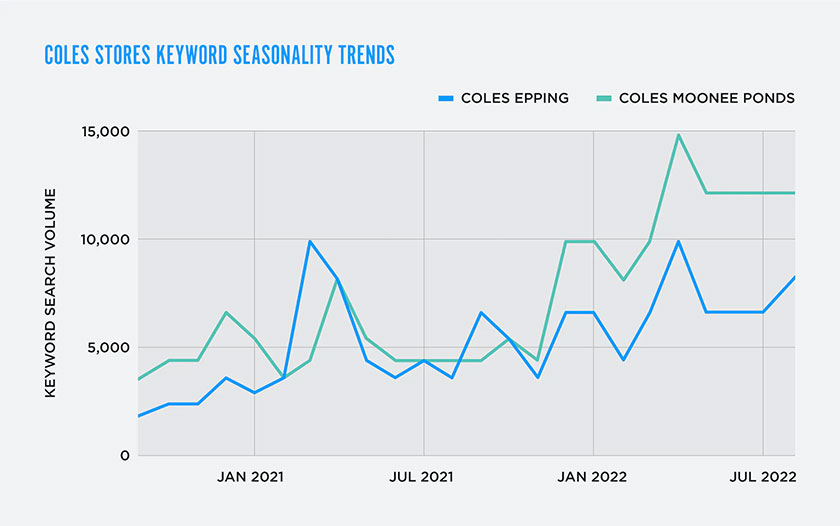 With more and more people returning to in-store shopping in this post-pandemic landscape, understanding seasonal shopping trends by assessing a brand's store-based keywords (e.g. brand name + location, such as Coles Moonee Ponds) can give a brand a glimpse into current in-store shopping trends.
The correlation we can make between keywords and store visitation is that the higher the search volume for a particular store keyword, the more people searching for it and therefore the more people are likely to visit in-store. This data can be used for planning in-store promotions, understanding the busiest times of year for the store which helps with rostering staff, and ensuring stores have enough stock to meet customer demand.
This seasonality data can be then overlaid with store foot traffic analytics to create an omnichannel view of store performance and how users online are converting or shopping in-store vs online.
4. Planning Seasonally Relevant Content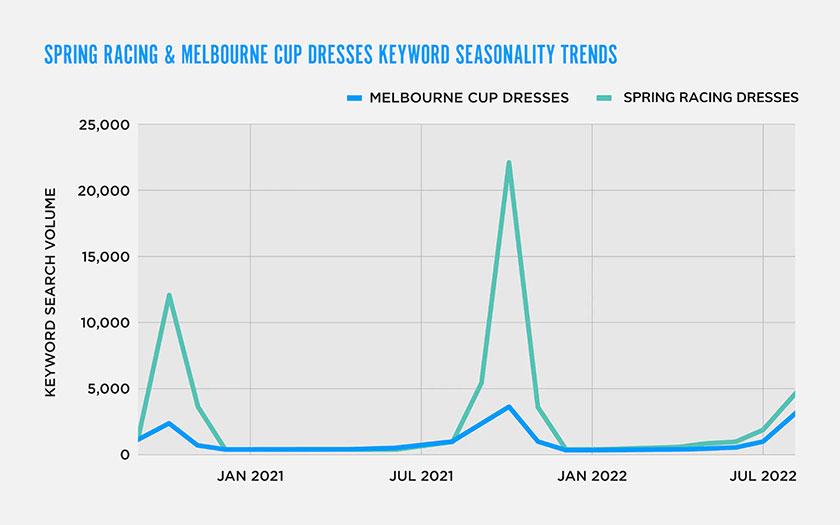 If a user is searching for a particular keyword or product to purchase, there is a likelihood that the same person will be looking for additional information on that topic. For example, assessing the keyword trends around Spring Racing Carnival dresses and Melbourne Cup dresses (an annual thoroughbred horse race in Victoria, Australia), these keywords see their peak in October each year, before the event at the start of November.
As part of the Spring Racing Carnival, there are themed days for different events, including Derby Day, Melbourne Cup, Oaks Day and Stakes Day, and for each of those, different dress codes are required. Using the broad keyword seasonality trends can help inform brands when to produce long-form blog content in the lead-up to the event.
If Spring Racing keywords peak in October, then blog content that talks to the dress codes, what to wear, how to make a fascinator, etc. needs to be created and launched ahead of the October peak, ideally a month or two before so the article begins gaining authority and traffic. Users looking to purchase these products will be also searching for information on what the dress codes are, style advice, etc.
If content is being produced and launched during the time the keyword is peaking, you are missing out on potential traffic, brand awareness and revenue that could be captured in the lead-up to it.
Why Do Keyword Search Volumes Change?
There are multiple reasons why keyword search volumes change and that they're not consistent each month:
Seasonal Events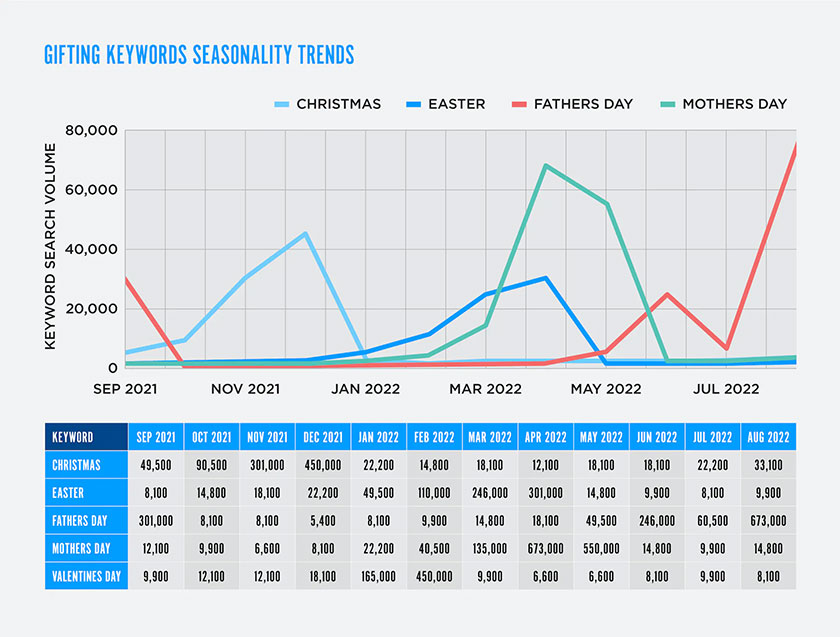 The most significant factor that affects keyword search volume trends are seasonal events. Any of the major gifting or sale periods such as Black Friday, Boxing Day, Mother's Day, Christmas or Easter is the best example of this.
Consider Father's Day, which is held on the first Sunday of September every year. In the lead-up to that, searches for keywords such as [fathers day gifts] and [best gifts for dad] are going to be at their highest before the event. However, once Father's Day is over, it is extremely unlikely that people will be searching for those terms again until next year.
However, if you only look at the average monthly search volume for these terms, it would suggest that users are still using these keywords consistently around the year.
Virality of Topic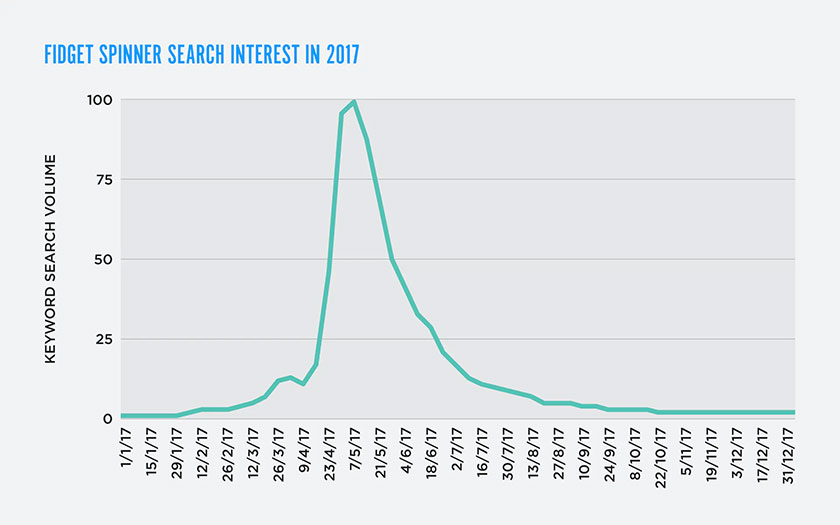 Topics that become newsworthy, whether that's through social media, celebrities or mainstream media, are likely to see huge seasonal keyword shifts. A key example of a viral product that surged in popularity was fidget spinners in 2017. After quickly becoming a smash hit on Instagram, Snapchat and the newly-launched TikTok, interest in the topic skyrocketed from its first viral posts in early 2017 until its peak in May 2017. The interest in the product then rapidly declined, falling into the pop-culture history books a few months later.
But what does this mean for SEO? With the increasing interest in the product on social media, keyword search volumes naturally grew. Users were searching for products, how to do tricks, how to clean their products and more. Brands that were able to leverage these viral keyword trends were able to target these users and increase their revenue in line with the trend.
Consumer Trends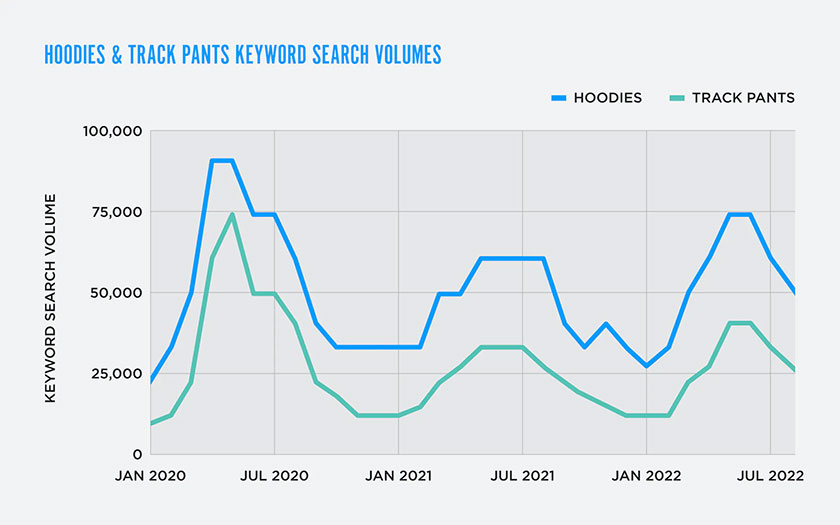 Overarching consumer trends, whether it's due to economic, environmental or social factors can also impact keyword search volumes. During the COVID-19 pandemic, in the first wave of the restrictions in 2020, a number of casual clothing keyword terms saw large search volume increases.
Why? With a large portion of Australia's population being restricted to their homes, trackpants, hoodies, t-shirts and sports leggings became our go-to day-to-day outfits. Conversely, clothing categories such as suits and event dresses (e.g. cocktail dresses), saw large search volume declines due to not needing them for work and not being able to participate in these events.
How Do I Get Keyword Trend Data?
There are multiple ways to quickly capture keyword trend data, with the easiest being Google Trends. Simply put in the topic or keyword and it will display an aggregate interest metric which is a culmination of search volume and other factors. That being said, Google Trends doesn't offer month-by-month breakdowns in search volume—that needs to be calculated from other tools.
Alongside Google Trends, specialised SEO tools such as SEMRush, Moz, Ahrefs and BrightEdge can also provide trends data for selected keywords.
However, for the best results, the Pattern SEO team uses a combination of SEO and SEM tools to capture granular, month-by-month keyword data so you can identify trends, grow revenue and better target users when they're searching for your products—all of which is presented in an easy-to-use, interactive spreadsheet.
For more information on how Pattern can accelerate your SEO strategy, contact us now.