With artificial intelligence (AI) changing the way we create content across the digital marketing landscape and Google's integration of search-generative features in the coming months, now is the time to start thinking about how to use these tools for your SEO content. 
From article writing to long-form copy, platforms like ChatGPT are making it easier than ever to create content in seconds. However, we know that no amount of AI could ever replace the true human experience, which is an integral part of Google's E-E-A-T scoring system for SEO content.
So, how can you use AI to your advantage without reducing the ability to write experienced, expert, authoritative and trustworthy content for your website? Below, we've highlighted four ways to integrate AI into your content strategy to make the most out of these new automation features.
1. Keyword Research
Keyword research is an integral part of creating a piece of content. Understanding keyword seasonality and trends, search intent and competition of the keywords you want to include is what forms the basis of any good article. However, it can be incredibly time-consuming, especially when you're on a time crunch or need to write a piece of content in a short amount of time.
Using AI to support your keyword research phase will help to cut down the time spent conducting keyword research and will give you a better foundation for what to write about.
Below, I asked ChatGPT to conduct keyword research for an article about women's clothing and styling winter outfits: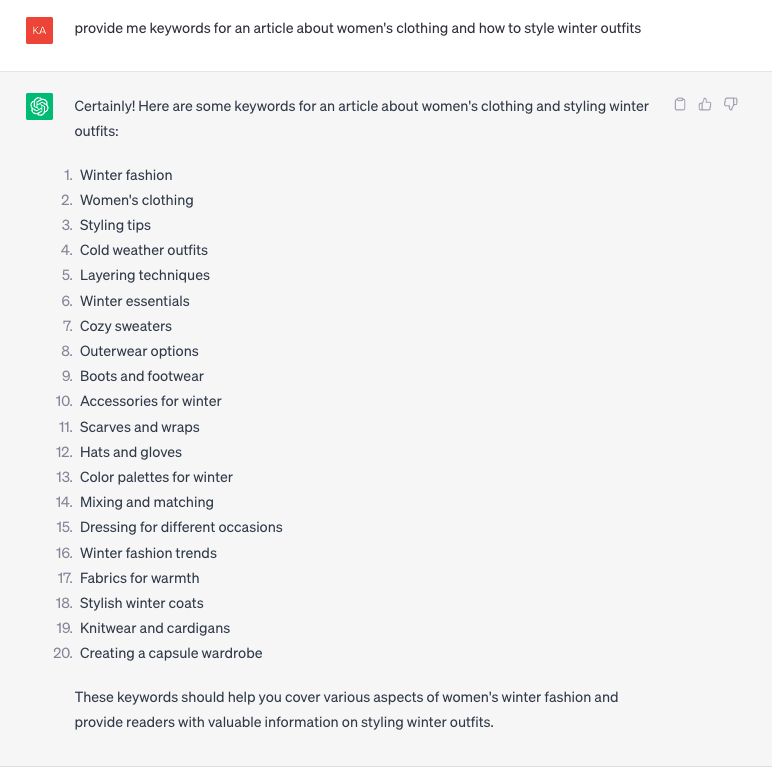 With 20 keyword ideas provided in a matter of seconds, I can then use these keywords as a basis for topics and body paragraphs. However, to ensure that your content answers user questions, being as specific as possible with your AI tools will ensure you can avoid the inevitable back and forth.
Below, I asked ChatGPT to provide me with long-tail keywords for an article about how to pick the right men's jacket for different occasions.
Note that we specified the need for long-tail keywords NOT titles.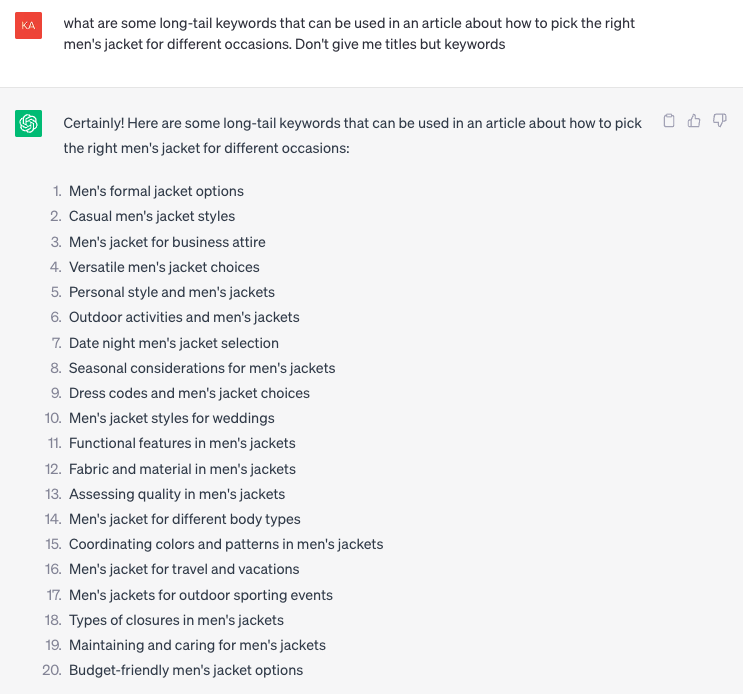 With a better understanding of both short and long-tail keywords that can be used in your articles, these keywords can be submitted to tools like Semrush or Brightedge to understand their search volume, intent and competitiveness across search engines.
2. Article Outline
While ChatGPT is great for generating content within seconds, it can be very general, and we'd recommend utilising the tool to support your content ideation instead of large body text. For content inspiration, AI can be utilised to create article outlines or briefs that can then be edited with additional body text.
From the title to the actual subheadings, AI will transform the way you create the first draft of your articles.
Below, I asked ChatGPT to provide me with an outline for an article about how to clean sneakers and the process for how to take care of your shoes during the winter months: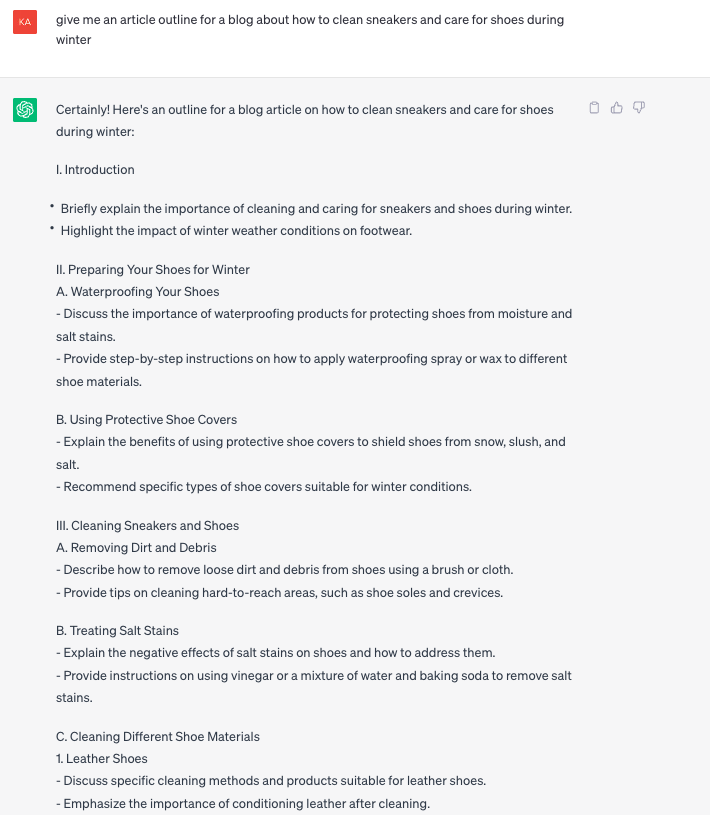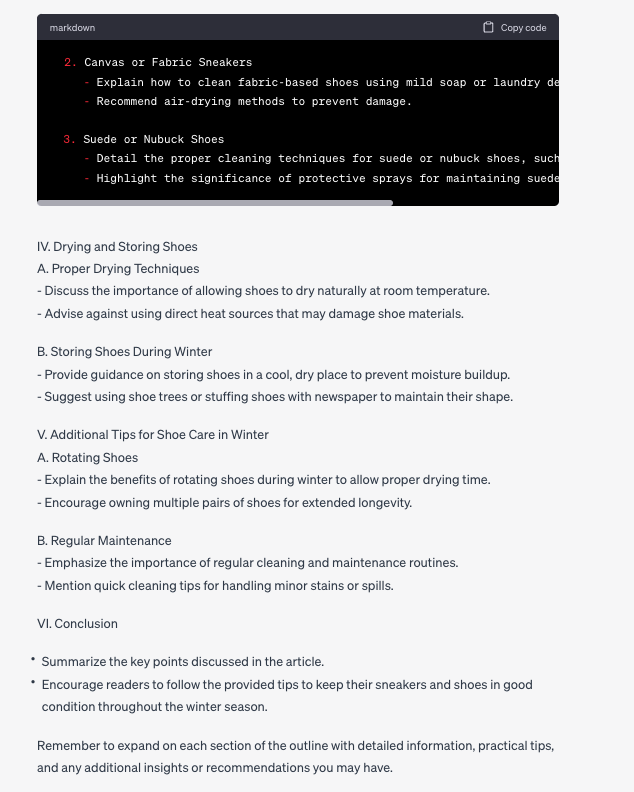 Within each recommended section, ChatGPT has provided additional suggestions for what to talk about. Using AI to outline a topic for discussion means you can cut your writing time in half and brief content writers much easier.
However, as highlighted above, it's essential to look at ChatGPT's suggestions as just that – suggestions. High-value content goes beyond just trying to grab attention or attract keywords, but actually answers user questions in depth, adding the brand's own perspectives, experience and expertise to meet Google's E-E-A-T guidelines.
3. Tone of Voice
A consistent tone of voice (TOV)  is a critical part of how your audience perceives your brand. If you have a very specific tone of voice, AI can further inform the stylistic side of your content.
For example, if you have an article written by a freelancer that is informative and answers the blog brief but doesn't fit your brand's TOV requirements, AI can be implemented as a next step to ensuring the copy reads as it should.
Below, I asked ChatGPT to rewrite a generic paragraph about how to style a mini bag for a wedding in a series of different brand TOV:
1. Luxury, designer tone of voice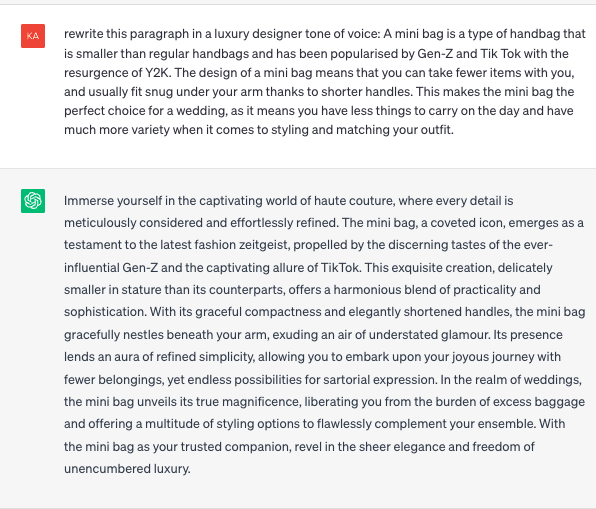 2. Simplistic tone of voice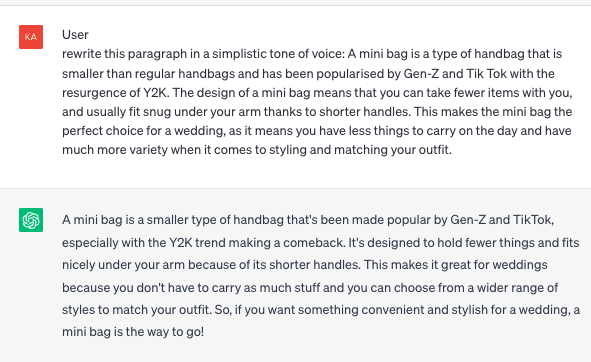 3. Upbeat tone of voice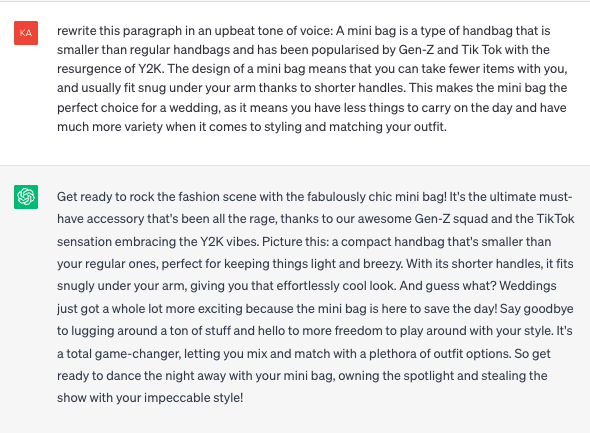 While ChatGPT understands the meaning behind different styles of tone of voice, it may take one to two tries to get the copy to where you feel it will resonate accurately with your audience. Again, ChatGPT and the use of AI is a great way to support your content ideation and optimisation, but it still requires a human to check the content to ensure it aligns with your brand.
4. Language Modification
If your brand exists in multiple regions and requires consistent content translation, then ChatGPT should be your go-to for bulk language modification. As the tool can only access information found on the web, this can become a huge time saver for marketers needing to translate a large amount of content quickly.
Below, I asked ChatGPT to translate the same paragraph about how to style a mini bag for a wedding from English to Italian: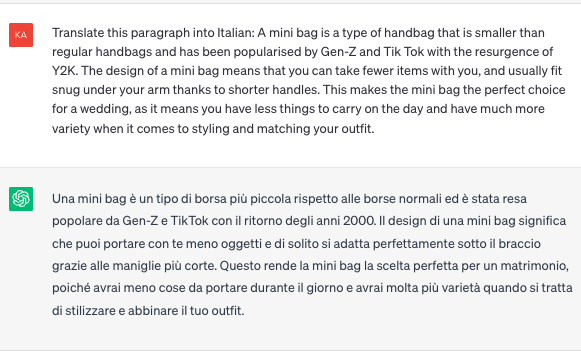 To ensure its accuracy, I then copied the Italian paragraph and put it through Google Translate to see how close the translation was to the original text:

Now we can compare the results:
Original paragraph:
A mini bag is a type of handbag that is smaller than regular handbags and has been popularised by Gen-Z and Tik Tok with the resurgence of Y2K. The design of a mini bag means that you can take fewer items with you, and usually fit snug under your arm thanks to shorter handles. This makes the mini bag the perfect choice for a wedding, as it means you have less things to carry on the day and have much more variety when it comes to styling and matching your outfit.
Italian to English paragraph
A mini bag is a type of bag that is smaller than regular bags and was popularized by Gen-Z and TikTok with the return of the 2000s. The design of a mini bag means you can carry fewer items with you and usually fits fits perfectly under the arm thanks to the shorter handles. This makes the mini bag the perfect choice for a wedding, as you'll have fewer things to carry throughout the day and have much more variety when it comes to stylizing and styling your outfit.
While there have been some changes highlighted above – which is expected when translating from English into another language and back to English –  the general ideas, themes and concepts have remained the same. This showcases the reliability and ease of using ChatGPT to translate your content into different languages with little to no errors in conveying your topics.
While the rise in AI and search generative features is going to shake up the world of SEO, content and crafting educational, informative content has never been more important. To understand how Pattern can support your brand through this new era of SEO content and Google's implementation of search-generative features, get in contact with our team now.