As ecommerce develops and D2C website trading teams become more sophisticated, we often see brands making the same mistakes. This is often due to a number of factors but usually boils down to either a lack of internal knowledge in the D2C team, or under-resourced teams that don't have enough time to complete the tasks necessary to drive consistent growth.
Below is a list of the most common ways brands go wrong with D2C website trading, and how to avoid them. Although this is not an exhaustive list, it gives an insight into the very real and everyday problems that brands come to Practicology to help fix.
Getting the data wrong
The foundation of strong D2C website trading performance is understanding how your customers are engaging with your site, why, and how you can improve this. To do so, the data you base your decisions on needs to be reliable. A problem our clients frequently face is a Google Analytics (or similar) account that hasn't been set up correctly or isn't measuring the data you actually need.
You can't optimise what you can't measure. Analytics is all about making informed decisions in order to deliver positive change. If you have a partial or inaccurate data set, you won't be able to make informed decisions and actually run the risk of making the wrong ones.
Not understanding how your channels interact
Even if you manage to get your analytics correct, we find that brands often don't know how to effectively use this data to truly understand how their different D2C website trading channels interact, and the touch points that work (or don't work) with their audience. You should be asking yourself: what are customers buying through what channel? Do they buy through your ads or do they come back again through search engines? How many touch points does it take to achieve a sales conversion?
Neglecting onsite conversion drivers – when D2C website trading is unfit for purpose
We remind our customers time and again, no matter how well you target your marketing activity, the experience on your D2C trading website will ultimately dictate the revenue your activities will drive. If you're consistently driving qualified traffic to your website, the data is correct and conversions are still down, the problem is likely the website itself. Are the calls to action (CTAs) strong enough? Does it load quickly? Is your delivery proposition attractive?
When our team begins to trade a client's D2C trading website, we tend to start by helping our clients to answer these fundamental questions and start to transform the experience onsite, before beginning to drive traffic through marketing channels.
Investing in a customer's instant sale value, rather than their long-term value
This is a common and fundamental error we've seen brands make; focussing too strongly on the immediate sale. Brands tend to measure performance week-to-week only, and do not pay enough attention to who is buying and why. You need to assess your customer data to understand what they buy, how often and in what combination. This data should then be used to target customers more effectively now, and in the future. Investing in long-term customer relationships and boosting their lifetime value is vital for a brand's future success.
Our data team has helped clients to find trends in consumer data and help them understand their customers more effectively, using their behaviours onsite to build a stronger, longer term relationship with them. To date this has ranged from setting minimum order values, product bundling, defining the delivery proposition, and even addressing the product range itself on the D2C trading website.
Filling the funnel, rather than focusing on all stages
Too often, brands overlook the fact that true conversion doesn't end at the checkout; the conversion channel is ever-increasingly complex and needs to be considered as such. Our D2C team has developed this diagram of the conversion funnel to help our clients understand how channels interact, and therefore how to target their customers more effectively.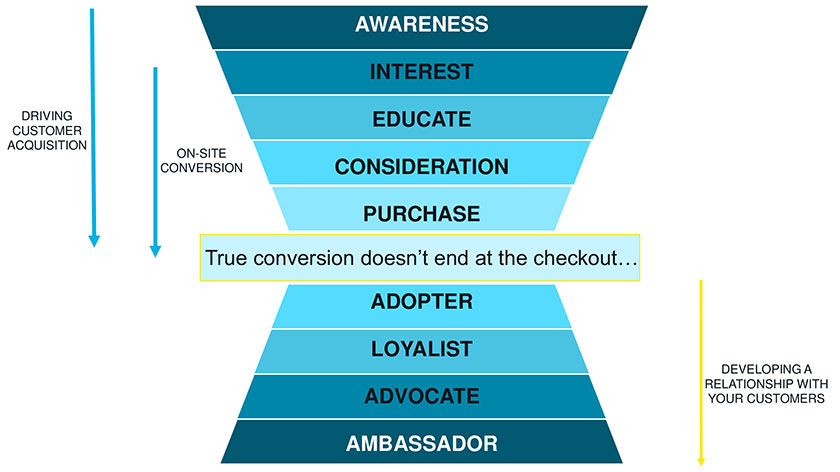 There are many stages to the purchase decision, and depending on the stage your customer is at, you need to talk to them in a different way. We've helped clients break down their conversion funnel and understand that they need more product information onsite, better visibility in search, or even a simpler payment process. We also help them to understand what happens next, and how to turn that customer into an advocate and ambassador for the brand, which helps to drive awareness and thus feeds back into the top of the funnel.
Not managing your product availability efficiently
One of the biggest challenges facing product merchandisers is dealing with products that are either temporarily or permanently out of stock. Mismanagement of old products can lead to Search Engine Optimisation (SEO) dips, high bounce rates and inefficient dynamic search ad performance.
One of the most common issues we have seen is old, out-of-stock products being left live onsite without appropriate steps being taken to explain the situation to the customer. Such product pages continue to receive traffic but lead to a high bounce rate and a poor customer experience as a result.
At Pattern we can help you to develop a product management protocol that works for your team. The solution tends to depend on the frequency with which your stock levels change, the platform your website sits on, the development support you have, and the agility with which your site can be updated.
Do you need help with your D2C website trading? Practicology's Outsourced Ecommerce D2C Team has a plethora of experience managing ecommerce trading for a wide range of consumer brands.
Contact us on UK@Pattern.com or click here to find out how we can help you.