It was recently reported that sales on marketplaces including Tmall, Amazon and eBay accounted for approximately 62% of all global online retail sales. However, launching your brand on marketplaces isn't always about driving profitable growth, there are many other reasons why brands should be selling on marketplaces.
Below we share the ways in which we help brands to maximise the value of a marketplace channel, backed up by key results from our 2021 UK Shopper Report.
Five Reasons Why Brands Should be Selling on Marketplaces
1.  Customer Acquisition
It's no secret that marketplaces attract significant traffic and have high visitor engagement, thanks to their fast delivery propositions, broad choice of products available and competitive prices. Marketplaces such as Amazon have become an increasingly important route to market for brands who wish to acquire new customer groups.
Results from our recent consumer polling survey provides further evidence of the claim that Amazon is a starting point for shopping journeys, and that customers use it as a shopping search engine. 55% of UK shoppers visited Amazon to check the prices of products, and 49% claimed to have visited the site to look for product information, including product reviews. A further 34% said they bought from the marketplace because they have an Amazon Prime subscription.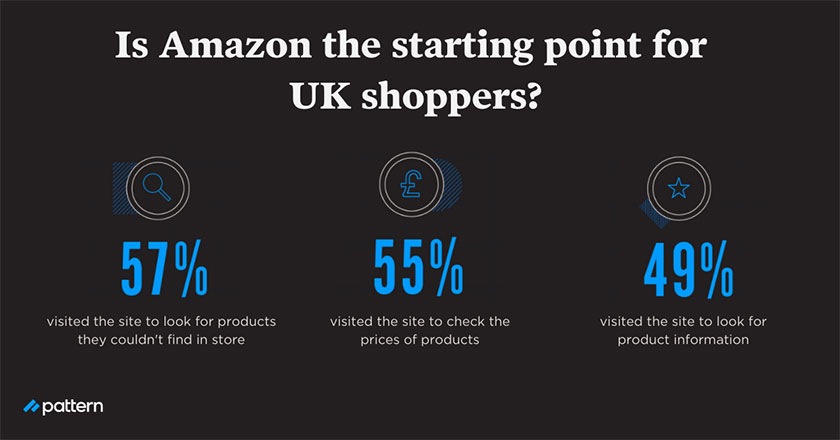 2. Brand Awareness and Exposure
Marketplaces have become a product discovery hub for many online shoppers – as well as a place for loyal customers to repurchase their favourite items – creating a platform to build your brand awareness. Amazon's push into a broader range of product categories, and its focus on a wide selection within those categories, has led to the marketplace becoming a key facilitator of product discovery.
3. Defence Strategy
For some brands, selling on marketplaces such as Amazon requires a strategic approach to avoid missing out on incremental revenue and a loss of market share in your category. We often recommend that brands seek to build on a defence strategy via marketplaces.
Having no presence on Amazon or Tmall can mean you will lose out to key competitors for customers who only want to buy from the marketplace. Amazon's Prime subscription in particular means that it is the first – and even only choice – for some shoppers when they are making a purchase, and so if your brand isn't available they'll purchase an alternative product that can be delivered for free within 24 hours.
In addition, if you don't have a strategy to sell your brand on marketplaces, it leaves a space for unauthorised resellers of your products to fill the gap and respond to demand, which can lead to negative perceptions of your brand if those sellers don't properly represent what you stand for.
4. Shortcut to Internationalisation
Cross-border online sales have grown significantly in recent years and allows your products to be readily available in markets that previously might have required a localisation strategy, so it's no wonder that many brands see selling on marketplaces as a shortcut to internationalisation.
Most of Amazon's sites receive more monthly unique visitors than these countries have citizens. This is because they will also receive visits from shoppers in markets where there is no local instance of Amazon, or where product accessibility is lacking.
5. Drive Revenue
30% of shoppers in the UK that we surveyed in February, expect to spend more on Amazon in the next year, while only 12% will spend less. This backs up our assertion that the gains Amazon made during 2020 will not be lost when lockdown ends. Shoppers who have been impressed with the convenience and range it offers plan to carry on spending on the marketplace. Ensuring your brand is present on marketplaces so you don't miss out on ecommerce growth is crucial to drive revenue.
In 2021, online marketplaces will be seeking to continue their growth by adding new customers, as well as selling more to those they have already converted to online customers. The strength of Amazon and the other international marketplaces such as Tmall means that every consumer product business needs a marketplace strategy. Whether you are thinking about selling on marketplaces in domestic or international markets, our checklist can help to determine if your brand is ready to launch on international marketplaces.
For appropriate brands, we can buy your stock and become your authorised Amazon seller, taking care of every aspect of the listings and marketing of your products, customer service and logistics. For brands who wish to sell directly to Amazon we can also support with the operation of your Amazon Vendor account, either providing expert interim staff or through a service model.
To talk to us about how we can help grow your online sales, protect your brand, or develop your marketplace strategy please contact us here.