COVID-19 has had a monumental impact on the financial and mental wellbeing of the Australian population; and the country has gone into the first recession in 30 years. With that in mind, adapting your post-COVID ecommerce strategy should be a top priority for retailers.
In order to help businesses bounce back and achieve commercial success in these difficult times, Pattern's Australia team have developed a 7-step approach to adapting your post-COVID ecommerce strategy for the new normal.
1. Start with the customer
Research has shown in past recessions, the companies that come out on top are those that invest in customer experience. Your business starts and ends with your customer, so should your approach to adapting your post-COVID ecommerce strategy.
The way consumers research and make purchases has changed. Mindfulness about safety and social distancing will be lasting and is likely to mean fewer and shorter trips to physical stores. For retailers operating across multiple channels, an Omni-channel strategy is fast becoming a necessity.
Multi-channel strategies are focused on channel-specific sales processes, while Omni-channel strategies place the customer at the centre, offering personalised products and services anywhere.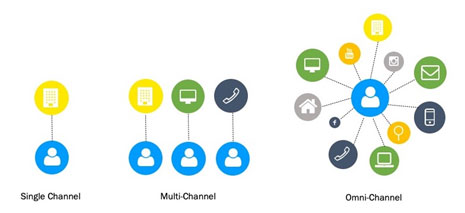 2. Gain insights into behavioural change
Behaviour changes will vary by state and postcode. Segmenting data by location and overlaying insights around the impact of COVID-19, specific to that area, will help to identify changes in behaviour that are more likely to stick in the longer term.
We recommend retailers examine the periods pre-COVID, during and post restriction, plus lockdown periods; to look for changes in how, what and where customers were purchasing. That said, whilst we can learn a lot from segment level data, customer behaviour is unique. The use of advanced data tools can help you to delve deeper and identify omni-channel personalisation opportunities.
3. Learn from your loyal customers
COVID-19 saw many consumers choose availability and convenience over brand loyalty. As part of your post-COVID ecommerce strategy, we would recommend you look into whether your loyal customers' behaviour and spending patterns have changed, but also whether their satisfaction level has been impacted by out-of-stocks or extended delivery delays.
Closely examining your data will help you identify opportunities to address any areas of concern and deepen the relationship your most valuable customers. Retailers should continue to capture and monitor your Net Promoter Score (NPS) or Customer Satisfaction (CSAT) ratings and gain valuable feedback on where the biggest pain points may be.
4. Engage your Customer Service and Store teams
Now that you have a lot of data telling you what is happening, customer facing teams can provide valuable insights as to why. They will be able to help you identify the moments that matter and understand what is most important to your customers now and in the future.
5. Look to competitors and other businesses
The shift to at-home-everything saw more agile retailers pivot and innovate to meet changing customer needs. For example, during stage 4 lockdown in Melbourne, Mecca Cosmetica quickly enabled services like call and collect and enhanced their online service offering by utilising their store teams to help customers via live chat and virtual consultations. In response to people's increased concern about safety, Woolworth have just launched Q-Tracker, a tool that helps their customers avoid busy periods in store.
Looking at examples of great customer experiences both within and outside of your category will help you understand if your Value Proposition is still competitive and identify initiatives you can apply to your business as part of your post-COVID ecommerce strategy.
6. Map the customer journey across channels
Identify any pain points and opportunities—pay attention to the experience between channels. Whilst delivering a great experience in a physical store or via the website is important; many retailers often overlook the omnichannel customer journey across channels.
Retailers must reflect on any learnings/friction points with channels closing and reopening that may need to be addressed post-COVID to ensure they are delivering the best customer experience.
7. End with the customer – Prioritise, test, learn and repeat
Finally, reviewing your roadmap for growth and future plans will be a fundamental part of your post-COVID ecommerce strategy. Consider the learnings that have unfolded since the onset of the pandemic and prioritise based on customer value and effort, fast-tracking any quick wins that are important to your customer and low effort to deliver.
Test, learn and repeat. In a fast-changing environment, an agile mindset is more important than ever.
Pattern regularly reviews the Omni-channel customer experience provided by retailers and brands. We deliver a prioritised action plan with clarity around quick wins, required resource and level of effort required. For more information on how we could support your business please get in touch here.