With COVID-19 presenting a carrot for those with a mature digital strategy, or a stick for those laggards who may be under mounting pressure to appease their customers' needs, the following question has started to arise: How much should our business really invest in the technology that enables our digital commerce experience?
The elevated expectations of today's consumers have continued to drive significant change in technology requirements.
The technology landscape has gone from disparate on-premise solutions to all-in-one cloud solutions; or from a situation where IT departments dictate transformation to one where you focus on the business and outsource the management of the technology. In more recent times, a movement towards best-of-breed solutions that can deliver a headless or microservices environment allows businesses to easily differentiate from each other.
While this continual evolution makes it more complex to navigate from an operational perspective, there is also more of a focus on what this should look like from a digital technology investment perspective.
Pattern has worked with businesses across a number of sectors to assist them in providing guidance and structure to their technology investments. We start with alignment of the business and technology strategies through a framework we have developed called the Operation Optimisation Acceleration (OOA) Model.
Consider the business phase
The OOA model focuses on the three core phases a business will likely realise throughout its journey. These are as follows:
-__ Operation:__ Business as usual, keeping the lights on. No technology change.
Optimisation: Leverage what you have to drive incremental growth. Minimal technology change.
Acceleration: Transformational activity. Significant technology change.
For example, a retailer with a mature digital presence in its home market that's looking to acquire new customers in other markets using its current technology solution will require significantly less technology investment than a B2B brand with no digital presence that wants to deliver a digital commerce experience from the ground up.
Investment in technology, like most business strategies, includes an investment and associated payback. These should be commensurate in nature.
Having worked with a number of businesses at differing stages of their digital maturity, we have been able to determine that bands exist in order to guide businesses with their technology investment, according to the phases in the OOA model.
The below diagram shows what percentage of your online sales you should be spending digital technology investment, depending on the phase you are at in the OOA model.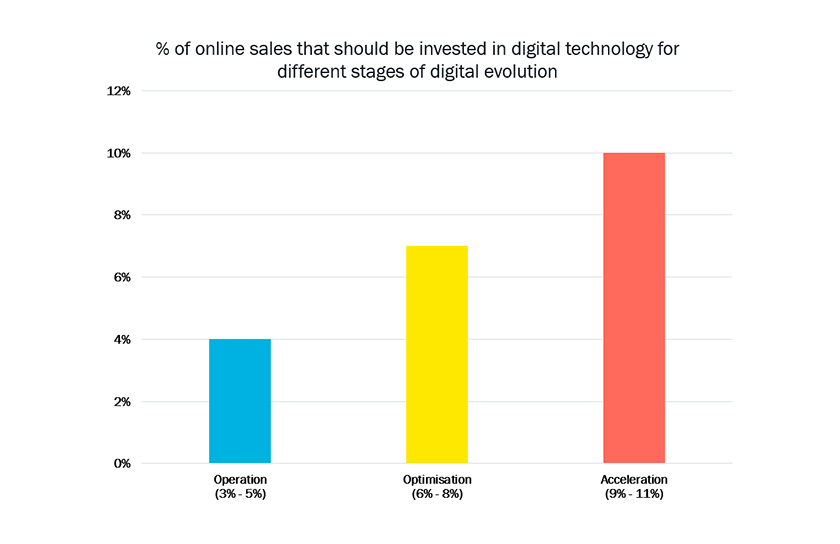 What technology costs should be included?
To present an accurate representation of the total investment in technology it's important to factor in both fixed and variable technology costs over a multi-year period. An example of a fixed cost might be the annual license for an ERP solution, whereas a variable cost might be transaction fees paid to a payment gateway where there will be greater room for fluctuation.
A final consideration for reviewing your technology investment is that technology partners, are exactly that – partners. When presented with the right guidance they are capable of tailoring something that will work best for your business. There is always room for negotiation, especially in these unprecedented times.
If you would like support with your commerce or technology strategy please get in touch here.